Post by Andrea Maitland
The last time I blogged was OCTOBER 10, 2018. I apologize. However, I feel that this can be an example of how time gets away from you when you don't prioritize. Here's a quick recap. I want to blog about building my dream home using modular design and construction as part of the building process. Step by step. Let's assume I already own the land and have been approved for a construction loan in the amount of $250,000. What's next?
Where to start? How about selecting a floor plan? The internet provides you with thousands of floor plans at the click of a button. To me, the plans start to look like each other after about the fifth one. I start by looking for one-story floor plans. As I surfed the web, I typed in more specific criteria of what I wanted. After about an hour I found it! Of course it isn't perfect yet, but it is a start. If you live near Structural Modulars, Inc. we have a collection of floor plans that are categorized by style. You can stop by the office and if you find something you like we will print it out for you. You can check us out at smihomes.com as well.
So why this floor plan? What do I love about this floor plan?
I love how there is personal space for everyone.
I love the amount of natural light you get from all the windows and french doors.
I love how the backyard is more of a courtyard where you can put a chaise lounge in one corner and an outdoor table and chairs somewhere else to play games or have dinner.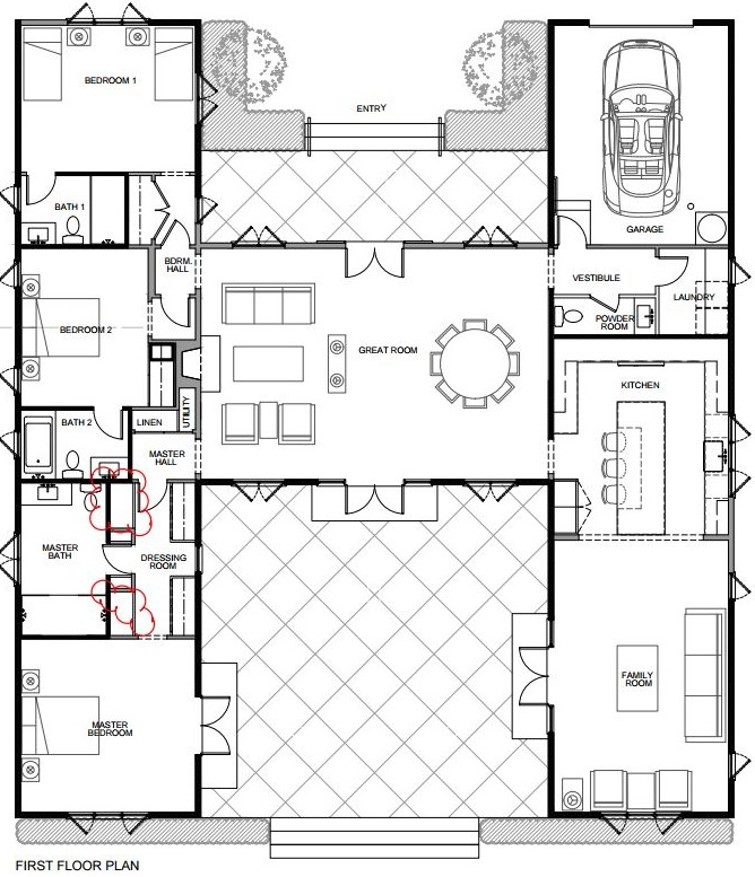 Looking at this plan there are things that will have to change due to my budget. I am trying to keep everything under $250,000. My budget must include the prep and finish work as well. This means the excavation and foundation work and the exterior and interior work on the house will be done by my builder. I think it is possible.
On a side note…sometimes looking at a 2D drawing just isn't enough.  I remember a friend of mine telling me about Pinterest years ago and I never checked it out.  Let's just say I have a lot of catch up pinning to do. What I ended up doing was put together a Pinterest board called "My Dream Home" and I assigned a sub-board for each room.
Here are some of the things that will need to change.
2560 SQ FT is a lot of square footage even if my parents and daughter live with me, it is still too much. My first change to the plan is to make the family room next to the kitchen a master suite for myself. If my parents decide to move in later the suite will already be done.
I don't know if I can afford to have a basement under the entire structure so I will price out the cost of a crawl space for the foundation. Maybe I will price out both so I can see the difference.  I know that having a basement is attractive when selling your home, but my parents are at a stage where using the stairs is too much and let's face it, I will just fill it with stuff!
The original floor plan shows tile in the front and back of the home. I have decided on simply landscaping. Grass, flowers, bushes, and a cocktail pool are definite projects for down the road.
The extra bathroom next to the laundry room will disappear and be incorporated elsewhere, and the two guest bedrooms will share a bathroom instead of each one having their own. This type of bathroom is called a "Jack & Jill" bathroom.
I have never had my own garage, so cleaning the snow off my car isn't a problem but I may want one later so I will remove the garage and tag as a project for another time. By doing this, it will reduce the amount of on-site work that will be done by my builder. There's another way to reduce costs. If I make the center box one box instead of two. This will help lower the shipping cost.
I love fireplaces, so I know I want one, but the cost will determine the type; whether it is gas, wood burning, etc.
And lastly, I need a place for an office even if the office serves as an extra "guest bedroom".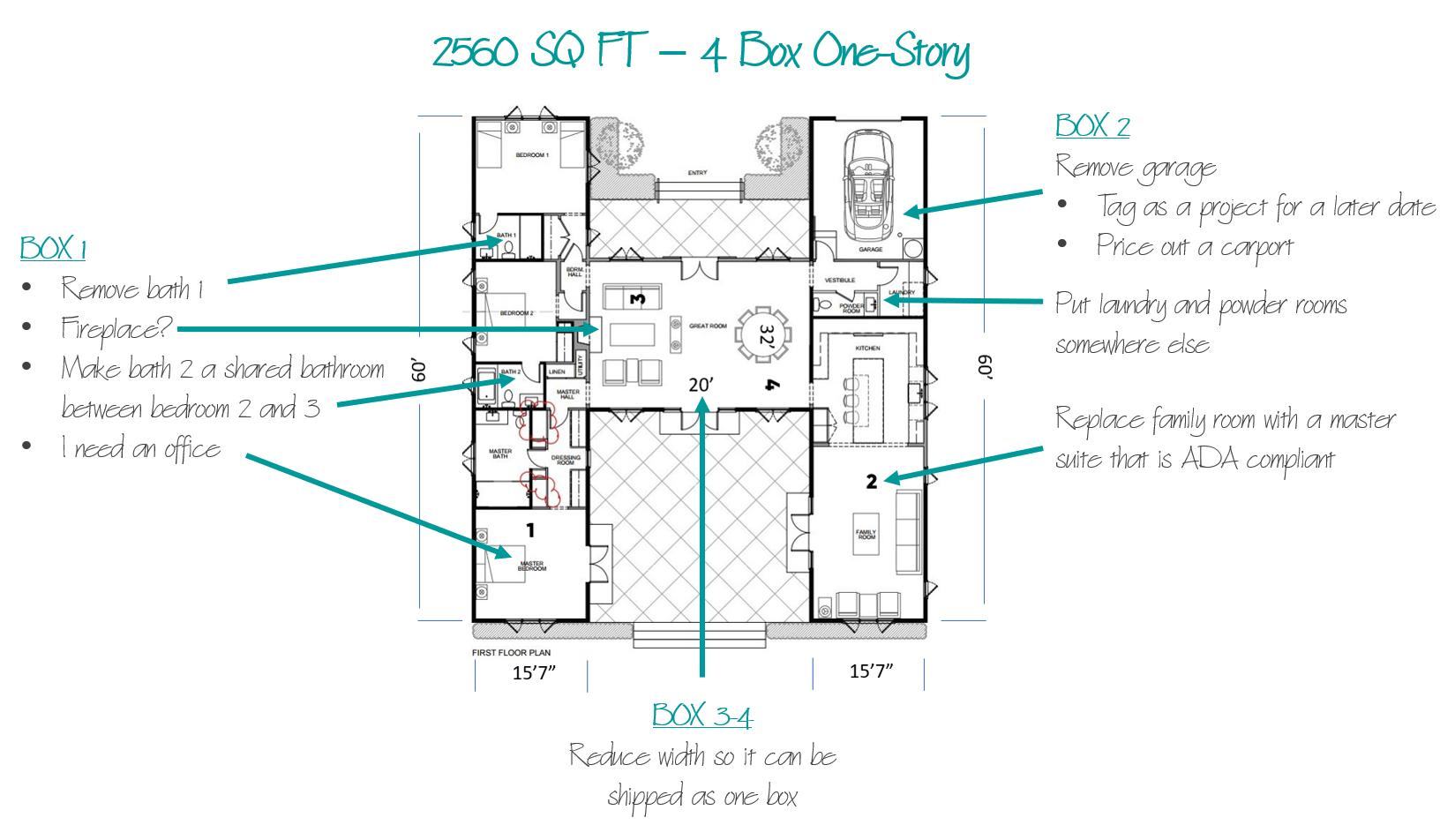 After marking up the plan and going over what I wanted to change to make it "my house", the draftsmen from Structural Modulars, Inc. came up with this.
My 1st rough draft floor plan.  1560 SQ FT.  Now that is totally doable!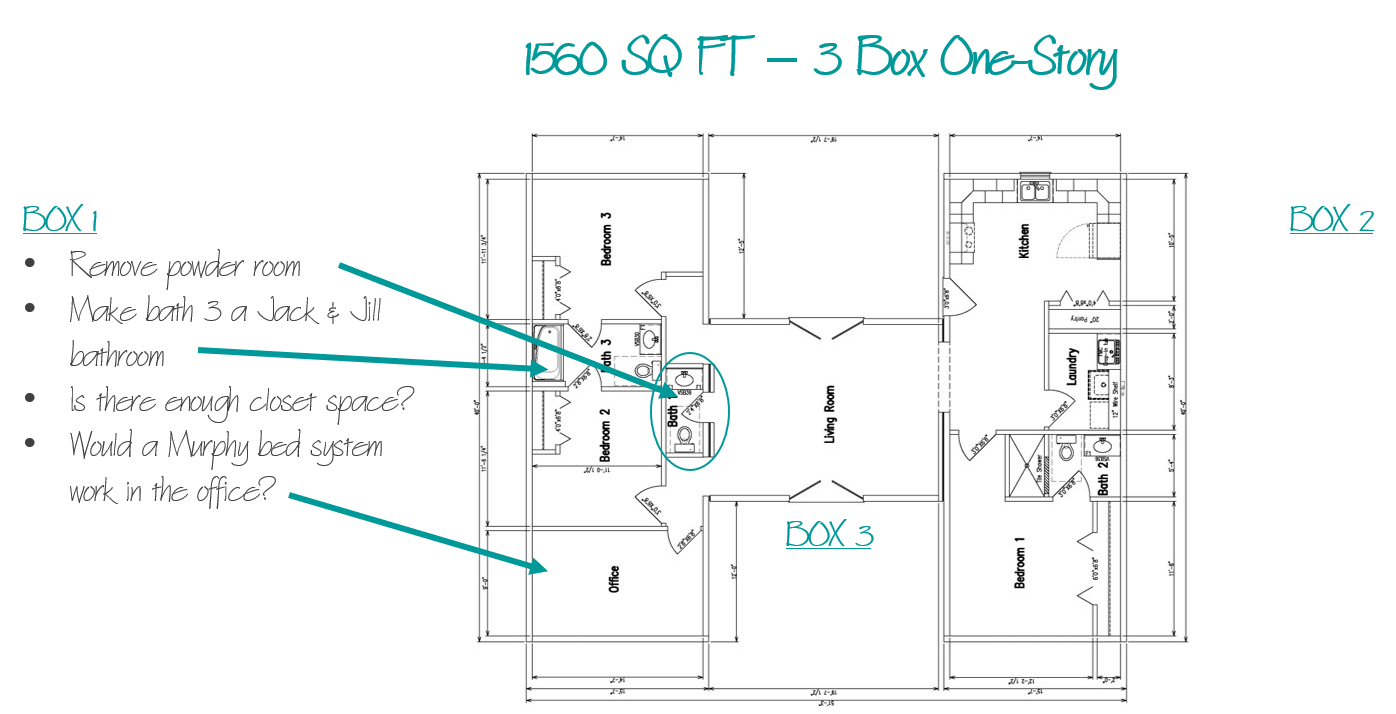 It's a start but it isn't quite there yet. I think there are still a few changes I need to make.  Let's look at Box 1.
As much as I would love to have that powder room, I think bathroom 3 should be a Jack & Jill bathroom with access from the living room.  That way guests wouldn't have to walk through a bedroom to get to the bathroom. Something else I will need to remember is to focus on on the door swing and the amount of space required for a 32″ – 36″ door to open and close.  Maybe pocket doors would work better?  OOOOHHHHH what about a barn door on a track?  Here are some layout examples of Jack & Jill bathrooms.  To check out the Jack & Jill board on Pinterest, click on either layout below.
Well.  I think Box 1 is coming along.  I still need to look at the bedrooms and the office.  I have some ideas of a Murphy bed system for the office and I also want to make sure there is enough closet space in the bedrooms.  Believe it or not…that is a huge selling feature!