Post by Andrea Maitland
Finally. Rough draft #3. The last box before I begin selecting my products and materials. The biggest hurdle so far? The layout of the kitchen. I remember remodeling my kitchen 8 years ago, and it took just a few hours to come up with the plan. It's easier, I think when you have limitations from the start. But to have an empty space where you choose where the windows and doors go and the sink, the oven, and the fridge, all the cabinetry, and an island, a kitchen table, or desk, it can be a little overwhelming. I made a point of creating a Pinterest board to get my creative juices flowing…that reminds me. Do I want a water and ice dispenser in the refrigerator? Lots of fun things to think about. There are so many resources online to assist with your kitchen design. For example, here is a pin from one of my Pinterest boards that helps you decide on a layout.
Below is the drawing of the last box of my H-series floor plan. It incorporates a master suite with a laundry/pantry and the kitchen. Everything is pretty much set except I am still deciding whether to have two entrances into the kitchen or just the one that leads to the garage or carport. What do you think?
I started out thinking about all the kitchens I had before moving back into my parents home. That first apartment where if you opened the oven door you had to open it from the side so you wouldn't get stuck between the wall and the 425-degree casserole dish you were attempting to take out. To my first townhouse where the pocket door swelled and sealed tight while I was baking in my tiny captain's kitchen and I had to yell out the window for a neighbor to break in to break me out. Let's put it this way…I know what I don't want. And when you start to think of what you do want, and you surf the web and look at pictures of beautiful kitchens and all the amenities, you can get sidetracked pretty easily!
1. I want a space that allows me to cook, to bake, to socialize, to assist with homework, to draw and paint, to celebrate…to all of it. You know? So. The first thing I am going to do is change the door swing so when I come in from the garage I can grab the doorknob with my right hand, push it open with my right shoulder all while I am carrying every last grocery bag from the car with my left hand, making my way to the island to set everything down before I break a finger or an egg. All in one trip. Just like the very long sentence above.
From there, I have direct access to the pantry and refrigerator to put everything away. The only food items I will keep over by the oven and/or island will be my spices, dried herbs, oil, vinegar, baking soda, salt, and pepper. Which reminds me. Look at this. I would love to have a spice cupboard like this!
The island will have drawers for my small appliances and, there will be electrical outlets with USB ports installed to accommodate a kitchen aid mixer, a handheld blender, my phone, etc. I want the island to be accessible from all sides serving as the hub of the room. If you need to work on a report while I am cooking dinner, we all have our own space. So with that said I need to sit down and make sure that I write down all of my appliances, dishware, tableware, glassware, serving pieces, utensils, bakeware, and so on to ensure I have the storage I need and that everything is within reach. By the way, I love the pull-out drawer below!
And I sidetracked. See how easy it is? Next to the pantry will be a closet with a stackable washer and dryer. Something like below. I realize it isn't on the current floor plan, but I have several examples to show my draftsman. I am going to talk with drafting about putting the laundry in the small hallway leading to the master bedroom. I will lose some pantry storage, but again it will only be a stackable with a counter and cabinets.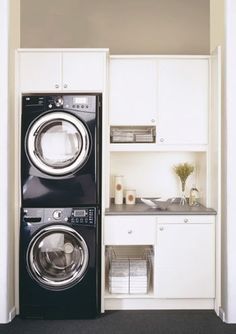 Question for you. Do you use the sink in your laundry room? I remember my mom would have things soaking for days in the laundry tub next to the washing machine, but today, there are all kinds of products that you just spray and wash. So I'm not sold on the sink just yet. Plus that would be more money. You figure the cost of the sink and the plumbing…that is money that could be put into more windows for all the natural light I want! Or better yet. Money I wouldn't have to spend at all.
So the 3rd rough draft of my H-series floor plan is done. The dimensions seem to be in proportion with the size of my furniture and amount of "stuff" I own. I have a few small things that need to be addressed. The door to the water closet is too close to the toilet. The door swing needs to change from left to right from the garage to the kitchen, and I think I am going to eliminate the other door in the kitchen. This will allow for more cabinetry along the wall. It might be fun to paint the wall with chalkboard paint and designate it for "messages" or something like that. Also, I still want to investigate how much more it would be to put a fireplace where the double doors are in the living room leading to the back patio. A single French door could be placed to the left and right of it which would provide light and access to outside. I can't wait to select all of my products and materials! That will be the topic for my next blog.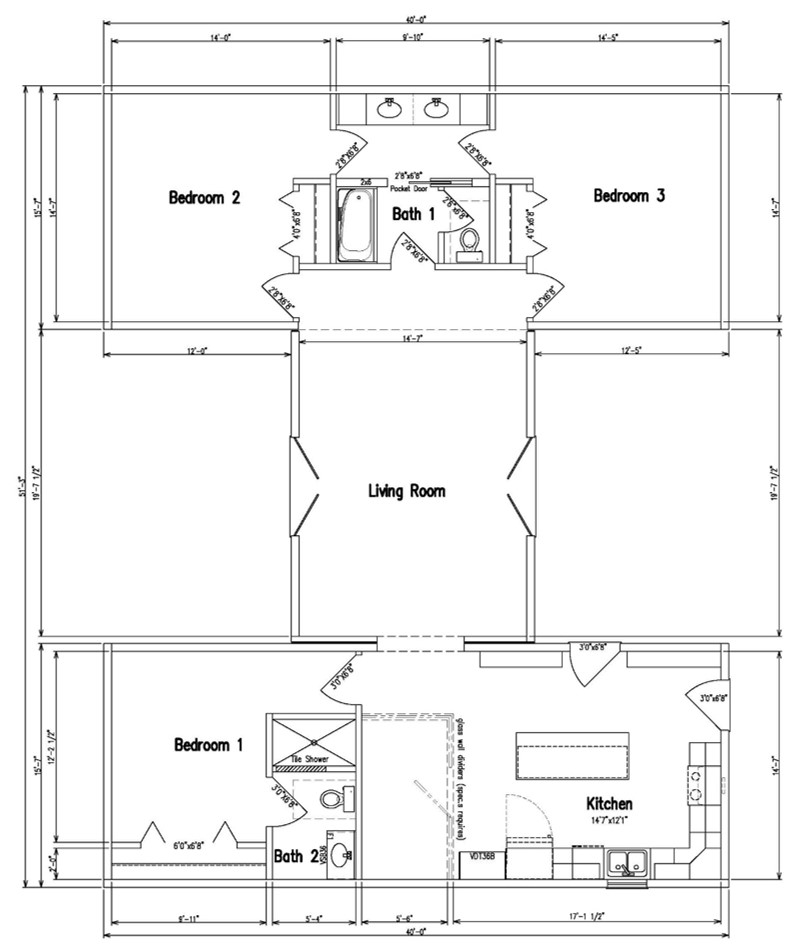 Now to explain the lateness of my blog. WE ARE BUSY! We are working on some pretty cool projects, and I have held off on bothering the guys upstairs so they can work on the real stuff that keeps this place and its' 50 some employees employed. This is just a blog article for now but you never know. One day.
However, here at Structural Modulars, we take your dream seriously. If you find that you are interested in learning more about our modular homes and what we can do for you, please let us know. You can email or comment or call, go to our website and fill out a form, send a message from our Facebook page, or tweet us. We would be happy to help. Until next time. Happy Home Building!