ARE YOU A BUILDER? WOULD YOU LIKE TO BUILD A BETTER WAY?
THE ELDERTON BANK BUILDING
1800 sq. ft.
Set on a block foundation.
2 Office Areas
Half Bath
Vault
Large Lobby & Teller Area
The Elderton was designed as a small bank branch.  Just enough room to be comfortable without any wasted space.
A spacious lobby with a teller area, a vault, a utility room, a unisex bathroom, and two offices.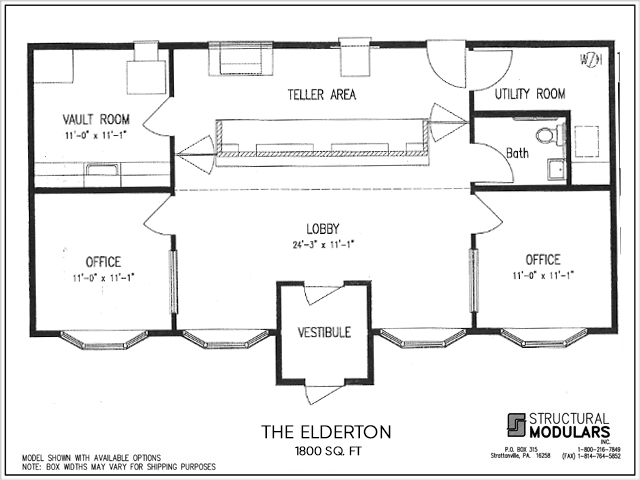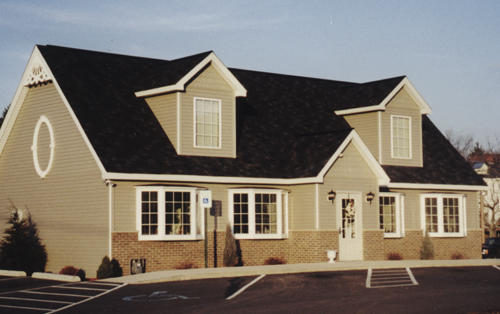 CONTACT US
Are you in need of professional office space?  No matter the size of the project, SMI can take your project from concept to finish in less time, saving you money…building a better way.
DO YOU WANT MORE INFORMATION ABOUT A PROFESSIONAL BUILDING?
WHAT OUR CUSTOMERS SAY
With over 5000+ customers and 30 years in business, here is what our customers have to say.
"They are #l in our book. We spent 3 years deciding how to build our new home – stick built, double wide, modular, etc. Once we decided on modular, the long process of who began. We looked at them all. In the end we settled on Structural Modulars, Inc. Why?

Their ability to build anything we wanted. Many of their competitors had a lot of restrictions on what they could do. Quality of construction. Their attention to detail was second to none. Best bong for the buck. They were not the cheapest bid we received, but the quality of their home stood out from the rest. The staff. Those guys are the best."
"We just wanted to say thank you for the part you played in our new home. Everything looks really nice and we appreciate all your extra effort. We would recommend a Structural Modulars home to anyone.

Please pass along our compliments to your crew of workers. It has been a pleasure to work with you. Thanks for everything!"
"We just wanted to say thank you for the part you played in our new home. Everything looks really nice and we appreciate all your extra effort. We would recommend a Structural Modulars home to anyone.

Please pass along our compliments to your crew of workers. It has been a pleasure to work with you. Thanks for everything!"
"We just wanted to express our gratitude and appreciation for everything that SMI has done for our family.

From the original blueprints t the final construction you have been a wonderful facility to work with. Keep up the good work!!!"
"While constructing my office, I found the sales team and management to be extremely knowledgeable and professional.

They make a serious effort to provide the client with exactly what they are looking for, and go the extra mile to make sure the entire process is as simple and easy as possible." 
"We decided to build a vacation home four hours from our home.  Our builder introduced  us to  the team at Structural Modulars, Inc.  They were patient  and very helpful  in giving us suggestions to make our dream vacation home come to life. Way to go!

#1 in our book for customer service, quality, craftsmanship, and pride in their work!" 
JOIN OUR MONTHLY NEWSLETTER